Subscribe to Stay Informed
Back to News
Woodsdale Fifth-Graders Donate 30 Tents to Youth Services System Inc. Winter Freeze Shelter
Posted 03/14/19
Contact: Betsy Bethel-McFarland, 304-218-2870, bmcfarland@ysswv.com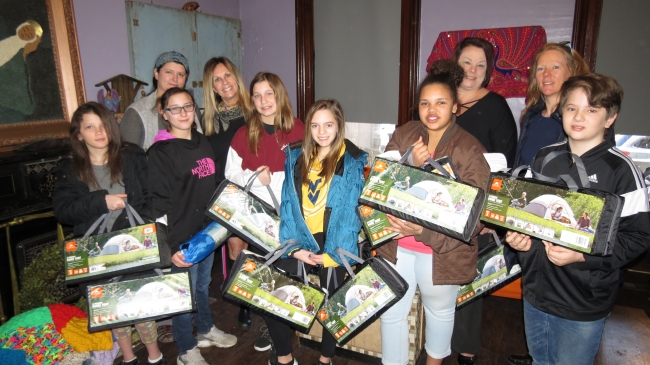 Cutline:
Pictured delivering tents on Monday are, front row from left, Woodsdale Elementary School fifth-graders Jaylah Hurt, Maddie McKee, Reagan Hughes, Kayleigh Whittington, Jada Ricker and Liam Waldeck; back row from left, Kate Marshall, House of Hagar Catholic Worker; YSS Winter Freeze Shelter volunteer and retired teacher Susan Brossman; Woodsdale Elementary School fifth-grade teacher Heather Vickers; and YSS Director of Development Tammy Kruse.
WHEELING, W.Va. — Fifth-graders at Woodsdale Elementary School recently raised enough money to buy 15 tents for people who use the Youth Services System Inc. Winter Freeze Shelter, which will be closing for the season Saturday morning.
The students' goal was to purchase eight tents, which they nearly doubled. Then local law firm Bordas & Bordas matched their efforts. In all, they donated 30 new tents, which YSS employees and volunteers will hand out Saturday morning after the homeless "guests" they serve are treated to an end-of-the-season breakfast at the shelter, located at the YSS headquarters at 87 15th St.
"I want you to know these tents are not only life-changing, they are life-saving," Kate Marshall, shelter employee and House of Hagar Catholic Worker, told the six fifth-graders whose names were chosen randomly to take a field trip to deliver the tents.
"This is a remarkable effort by these kids," YSS CEO John Moses said. "We commend them and their teachers for their kindness and generosity."
Fifth-grade teacher Heather Vickers and retired teacher Susan Brossman, a shelter volunteer, brought the students to deliver the tents on Monday at Marshall's House of Hagar Catholic Worker house located behind YSS on 14th Street. When the youngsters arrived, they were greeted by about 20 students from Texas Tech University and University of Notre Dame spending their spring break staying at YSS and learning about its programs and the programs of House of Hagar and Grow Ohio Valley. The college students gave the youngsters several rounds of applause for their efforts.
One fifth-grader, Maddie McKee, shared with the group that she took her request to her church on Sunday. In response, the parishioners of Ruble Street United Methodist Church donated almost $100 to the project. Her grandmother also crocheted a blanket and hats for the homeless individuals.
"I appreciate your initiative and your creativity in thinking of resources in our community to help other members of our community. That's just amazing," Marshall told McKee.
Fifth-grader Reagan Hughes shared with the group that she was proud of her school for raising money for people in need.
Brossman visited the fifth-graders at school to tell them about her experiences at the shelter and share the variety of reasons why some people become homeless.
Vickers said service learning is very important to her.
"We volunteer at the soup kitchen once a month as well. We've taken six or five groups so far. So, service learning is a huge part of what we do at Woodsdale," Vickers said. "It's important to branch out a little bit and know outside of the textbook what's going on in the community and the world as well."
In addition to the service aspect of the project, Vickers incorporated a consumer component, having the students research the quality and price of tents and determine how many they could purchase.
YSS is seeking additional donations of tents, sleeping bags, boots, clothes, tarps, backpacks and non-perishable food such as protein bars to distribute to shelter guests. Donations can be dropped off at 87 15th St. between 8:30 a.m. and 4:30 p.m. Monday through Friday.
"The shelter is closing for the season having served more than 200 individual people since Dec. 15, but the needs continue year-round. Donations of items and money are welcome any time," Betsy Bethel-McFarland, YSS communications manager, said.
Anyone who has supported the Winter Freezer Shelter in any way is invited to River City Restaurant at 5:30 p.m. Tuesday for a Soup Social as a way for YSS to say thank you. Local restaurants are donating soup and salads, and several special guests will speak.
For information or to RSVP for the Soup Social, call 304-218-2847 or email Holly Fox, hfox@ysswv.com.