Subscribe to Stay Informed
Back to News
New Martinsville Students Give to YSS
Posted 02/07/19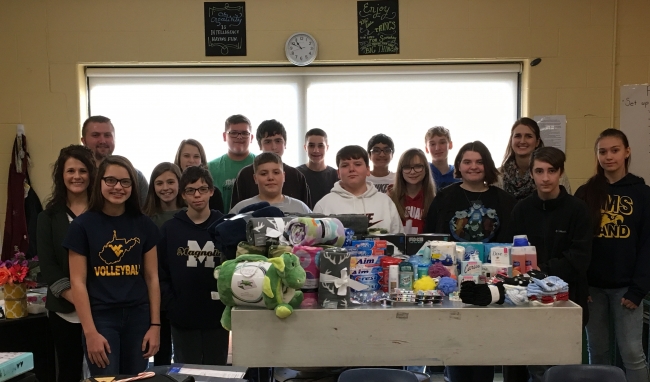 Contact: Betsy Bethel-McFarland, bmcfarland@ysswv.com, 304-218-2870
NEW MARTINVSILLE, W.Va. — Dec. 20, 2018 -- Students in pre-kindergarten through eighth grade at New Martinsville School have collected blankets and necessities for local foster children in the hope they will have a warmer, merrier Christmas.
The school's Sources of Strength group, which is a district-wide campaign focusing on bullying prevention and suicide prevention, collected the items throughout the months of November and December. The group's seventh- and eighth-grade peer leaders chose to help foster children served by Youth Services System Inc. because they wanted to reach out to children their own age.
"It's wonderful when our neighbors selflessly give to help the growing number of children in the foster care system, but it's extra-special when kids give to other kids. We're seeing it more and more, and it's heartening," John Moses, Youth Services CEO, said.
Meghan DeLorenzo, a Wetzel County Schools psychologist, is a trainer for the Sources of Strength program at New Martinsville School. She teaches the adult advisers, who facilitate the student-led meetings that focus on spreading positive messages and developing coping skills, perseverance and where to find help during difficult times.
The students focus on eight Sources of Strength components throughout the school year: mental health, family support, positive friends, mentors, healthy activities, generosity, spirituality and medical access. The focus for November and December was generosity.
"The Sources of Strength Program is critically different from other suicide prevention programs. It targets involvement of our youth in our efforts for prevention. The mission of our peer leaders is to spread messages of hope, help and strength stories when presented with life's challenges," DeLorenzo said.
About Youth Services System, Inc.
Youth Services System, Inc. is committed to responding to the complex needs of youth at serious risk. For over 44 years, Youth Services System, Inc. has reached thousands of youth and their families with our shelter, residential, community-based and professional services. Together with youth and their families, we work to improve their physical and emotional well-being, to address the debilitating effects of abuse, addiction, and trauma, and to build the skills and connections they need to be successful. Supported by our volunteer Board of Directors, dedicated staff, and faithful community support, Youth Services System, Inc. makes an impact in the lives of youth. For more information, visit www.youthservicessystem.org.
###