Subscribe to Stay Informed
Back to News
Teen Girls at YSS Helinski Shelter Make Baby Blankets for Wheeling Hospital
Posted 02/07/19
Hospital's Nurse Anesthetists Regularly Hold Clothing and Supply Drives for Girls
Contact: Betsy Bethel-McFarland, bmcfarland@ysswv.com, 304-218-2870
WHEELING, W.Va. -- Nov. 30, 2018 — Teen girls living at Youth Services System's Helinski Shelter on Wheeling Island presented a Wheeling Hospital representative today with about 20 baby blankets they made for the hospital's labor and delivery department.
Margo Scott, Helinski site coordinator, said the girls in the emergency shelter, who are ages 8-17, have enjoyed learning from the staff how to crochet borders around fleece blankets. Scott said crocheting is calming, leads to conversations with each other and the staff, and gives the girls a skill they can use the rest of their lives.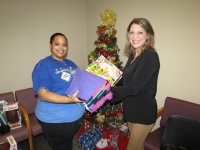 They started out making blankets for themselves, but after receiving donated items from Wheeling Hospital's certified registered nurse anesthetists several times this year, the girls decided to use their new skills to give back to the hospital by making blankets for the babies born there.
Lisa Smith, community outreach coordinator for the certified registered nurse anesthetists, today delivered another SUV full of items to the emergency shelter and at the same time picked up the blankets for the hospital.
This is the third time this year the nurse anesthetists have taken up a collection for the emergency shelter. They held a Jeans for Teens drive as well as a summer recreation drive for items such as beach towels and sunscreen. The items Smith delivered today included hair accessories, nail polish, socks and gloves, adult coloring books, colored pencils, books, footballs, soccer balls and clothes.
"I want to thank the nurse anesthetists who donated. They really went above and beyond to help these kids in need," Smith said
About Youth Services System, Inc.
Youth Services System, Inc. is committed to responding to the complex needs of youth at serious risk. For over 44 years, Youth Services System, Inc. has reached thousands of youth and their families with our shelter, residential, community-based and professional services. Together with youth and their families, we work to improve their physical and emotional well-being, to address the debilitating effects of abuse, addiction, and trauma, and to build the skills and connections they need to be successful. Supported by our volunteer Board of Directors, dedicated staff, and faithful community support, Youth Services System, Inc. makes an impact in the lives of youth. For more information, visit www.youthservicessystem.org.
###