Subscribe to Stay Informed
Back to News
Volunteers Prepare to Stuff the Truck for YSS Winter Freeze Shelter 
Posted 10/07/21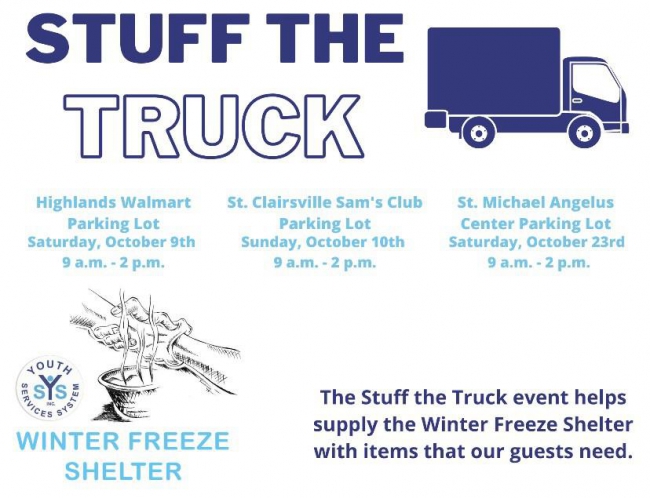 For Immediate Release
September 27, 2021
Contact: Betsy Bethel-McFarland, 304-218-2894
WHEELING – AmeriCorps VISTA volunteers with Youth Services System Inc. are asking the community to help Stuff the Truckwith items for YSS Winter Freeze Shelter guests. A truck will be parked outside three locations from 9 a.m. to 2 p.m. on thefollowing dates:
Oct. 9 — Walmart at The Highlands, Triadelphia

Oct. 10 — Sam's Club, St. Clairsville
Oct. 23 — St. Michael Angelus Center, Wheeling
Youth Services System is asking for supplies such as hygiene products (deodorant, razors, shampoo, etc.), winter clothing and undergarments (heavy socks, winter hats, work boots, coats, gloves, etc.), batteries (D and AA), bedding and camping supplies (pillows, sleeping bags, tents, tarps, etc.), and non-perishable foods.
The Sisters of St. Joseph are providing another opportunity to donate to the YSS Winter Freeze Shelter with a Drive & Drop event located at Congregation of St. Joseph-Wheeling Center and St. Michael Angelus Center from 9 a.m. to noon on Oct. 16. They are requesting new socks and underwear of all colors and sizes for men and women. For more information, see the flier by clicking here.
YSS plans to open its Winter Freeze Shelter for the 13h season on Dec. 15. Since 2009, the agency has housed 1,773 individuals in the low-barrier shelter for people experiencing homelessness.
###