Subscribe to Stay Informed
Back to News
Wheeling Mayor Proclaims Nov. 8 as Wheeling SleepOut Day
Posted 11/05/19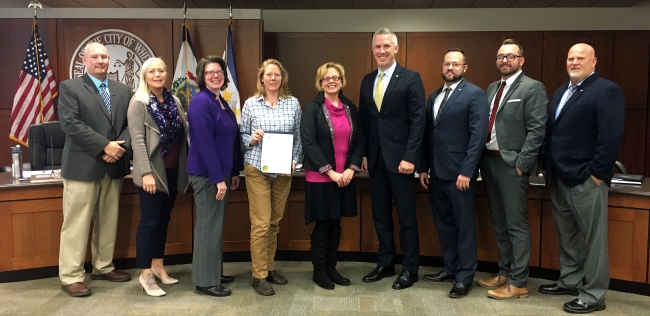 Pictured in City Council Chambers on Tuesday, Nov. 5, 2019, following Mayor Glenn F. Elliott Jr.'s proclamation that Friday, Nov. 8, 2019, is Wheeling SleepOut Day in the city of Wheeling are, from left, Coucilman Ken Imer, Councilwoman Melinda Koslik, Councilwoman Wendy Scatterday, Youth Services System Development Director Tammy Kruse, YSS Communications Manager Betsy Bethel-McFarland, Mayor Elliott, Vice Mayor Chad Thalman, Councilman Ty Thorngate and Councilman Dave Palmer.
WHEELING — Nov. 5, 2019 — Wheeling Mayor Glenn F. Elliott Jr. has proclaimed Friday, Nov. 8, 2019, as Wheeling SleepOut Day in the city.
Elliott read the proclamation during the weekly city council meeting at noon Tuesday in council chambers at the Wheeling-Ohio County Building on Chapline Street.
The 9th annual Wheeling SleepOut begins at 4 p.m. Friday, Nov. 8, at the Miracle League Field at the city's J.B. Chambers I-470 Complex. The peer-to-peer fundraising event benefits youth in the Transitional Living Program operated by Youth Services System Inc. Twenty-two teams and 143 participants are registered for this year's event, which has a goal of raising $75,000. Participants raise money and awareness about youth homelessness and are invited to build makeshift structures in which to spend the night.
Below is the proclamation: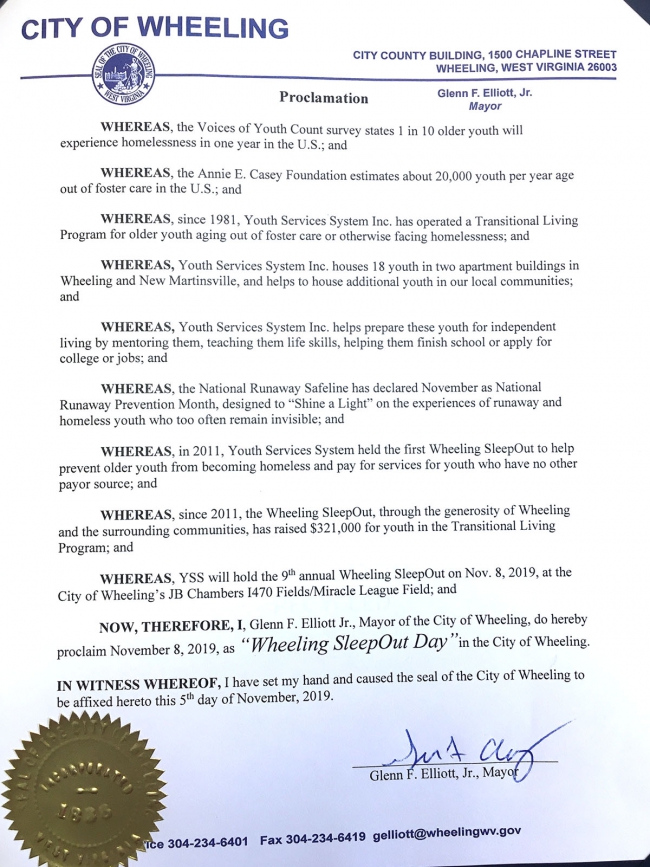 For more information about the Wheeling SleepOut, visit www.wheelingsleepout.org.