Subscribe to Stay Informed
Back to News
Wheeling SleepOut Gets Big Boost from AEP
Posted 02/07/19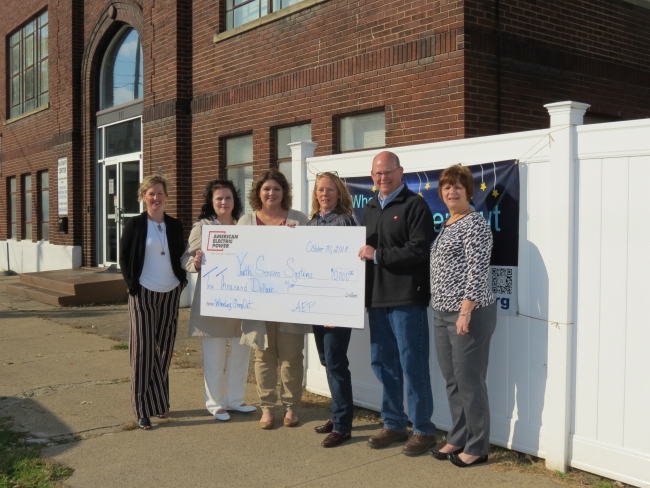 Contact: Betsy Bethel-McFarland, 304-233-9627, Ext. 426
WHEELING, W.Va. – October 31, 2018 – AEP today presented a check for $10,000 to Youth Services System Inc. in support of the 8th annual Wheeling SleepOut.
November is National Runaway Prevention Month. The Wheeling SleepOut is held to raise awareness and money to address the critical problem of homeless youth in the Ohio Valley.
This year's event got a boost when AEP Mitchell Plant decided to get involved. Several plant employees volunteer throughout the year at YSS. When they were looking for a way to impact the community, they knew exactly who they wanted to help.
"YSS is an incredible organization. They work tirelessly to help end homelessness, especially among the most vulnerable. Their transitional living facilities were in need of funding. We hope this event provides some support in getting the youth the care they need," Doug Rosenberger, AEP Mitchell Plant manager, said.
"We are impressed with AEP and their dedication to helping local young people who have no place to go when they age out of placement. These kids are on their own and are looking for a life line. Because of caring, responsible businesses like AEP, Youth Services System is able to plug them into services to help them during their transition into independent living," John Moses, Youth Services CEO, said.
AEP representatives presented the check to YSS today at the McCrary Center, a YSS Transitional Living Program on Wheeling Island where youth ages 17-21 live and learn how to cook, clean, shop for groceries, do laundry, balance a checkbook and more.
"We do so much more than giving them money; it's the relationship we build with them, giving them support, building their self-esteem," Pam Jeffers, Transitional Living Program director, said. The mentors who work with the youth teach them many practical skills, "but the most important thing is letting them know that they have someone to talk things through with and be there for them."
The Wheeling SleepOut is being held at Miracle League Field at the JB Chambers Sports Complex from 4 p.m. Friday, Nov. 2, until 9 a.m. Saturday, Nov. 3. Teams raise money and awareness for youth homelessness and then spend the night in cardboard structures they have created. Live music, food and prizes also are on tap for the family-friendly event. For information, visit http://wheelingsleepout.org.
About AEP
American Electric Power has 43,000 customers in West Virginia's northern panhandle. It is part of Appalachian Power, serving 1 million customers in West Virginia, Virginia, and Tennessee. AEP is one of the largest electric utilities in the United States, delivering electricity and custom energy solutions to nearly 5.4 million customers in 11 states. AEP owns the nation's largest electricity transmission system, a more than 40,000-mile network that includes more 765-kilovolt extra-high voltage transmission lines than all other U.S. transmission systems combined. AEP also operates 223,000 miles of distribution lines. AEP ranks among the nation's largest generators of electricity, owning approximately 31,000 megawatts of generating capacity in the U.S.
###