Subscribe to Stay Informed
Back to News
Williams Energy Volunteers Spruce Up YSS on United Way Day of Caring
Posted 09/16/20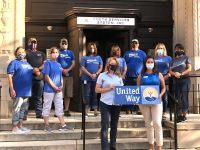 WHEELING, WV —Sept. 16, 2020 — Youth Services System Inc. benefited from the brawn and generosity of 10 Williams Energy employees who volunteered at the United Way agency during the 2020 Day of Caring on Sept. 9.
The employees met at the Hazel Atlas building first thing in the morning to grab a doughnut breakfast and their official United Way Day of Caring T-shirts before dispersing to three YSS sites: McCrary Center, Helinski Shelter and Lazarus House, where they cleaned and painted.
The Williams employees found Helinski Shelter (emergency shelter for girls) to be so clean and in such good shape that instead of providing any physical labor, they corraled their buying power and headed to The Highlands to purchase backpacks, school supplies and clothes for the residents who are ages 8-17.
YSS provided the volunteers lunch purchased from Rachel's on 16th.
YSS President Tammy Kruse was impressed with the Williams volunteers' willingness to reach out despite the COVID-19 pandemic, which caused a substantial reduction in the number of companies participating this year.
Kruse told WTRF-TV 7: "During a pandemic, to put all of the fears aside and say I still want to do something for our community, for youth services, and United Way says a lot about their character and just how caring they really are."