Subscribe to Stay Informed
Back to News
Women's Giving Circle Continues Support of YSS Transitional Living Program With $13,000 Grant
Posted 02/18/20
2020 grant brings total amount donated by Women's Giving Circle to $100,000
For Immediate Release
Feb. 18, 2020
Contact: Betsy Bethel-McFarland, 304-218-2894
WHEELING, W.Va. — The Women's Giving Circle presented Youth Services System Inc. with a $13,000 grant Tuesday to provide housing and support for girls and young women in the YSS Transitional Living Program.
The grant was one of eight totaling $43,285 presented to local nonprofits during a reception held at the YWCA Wheeling.
The Women's Giving Circle is a philanthropic organization dedicated to providing funding for unmet needs of women of all ages in the Ohio Valley. It is an initiative of the Community Foundation for the Ohio Valley.
Every year since the Women's Giving Circle was founded nine years ago, it has supported girls and young women in the YSS Transitional Living Program. This year's grant brings the total amount donated to the TLP by the Women's Giving Circle to $100,000.
"The support of the Women's Giving Circle is a blessing to the young women in our Transitional Living Program," said Betsy Bethel-McFarland, YSS communications manager and grant writer. "We are humbled and grateful that these women believe in the power of this program to create better futures for the youth we serve."
The teens and young adults in the TLP have aged out of foster care; left home because of abuse, drug use or an unsafe living environment; and/or been released from a detention or drug treatment facility. Most have been abandoned or rejected by family. All are experiencing or facing homelessness when they come to YSS.
The TLP provides safe housing for young men and women ages 17-21 while supporting them with tools to achieve independence. These tools include access to education, employment assistance, financial education, interpersonal skills and life skills such as cooking, cleaning, driving and more.
Material needs providing by the Women's Giving Circle grants have included but are not limited to rent and utilities; food; college tuition, housing and books; diapers, formula and other baby supplies; furniture and transportation.
"We are the proverbial safety net for these young people, but we couldn't do it without the financial support of people like the Women's Giving Circle and other local foundations," Bethel-McFarland said.
Beyond material needs, the TLP staff build relationships with the young people they serve. Sometimes the staff are the first people ever to believe in them or tell they have worth.
One young woman in the Transitional Living Program is 18 and the mother of two. Her mother was killed by a drunken driver when she was 4, and she and her brother were raised by their father, who has a substance use disorder. She also used drugs from a young age. She decided to turn her life around after she was arrested and jailed for drug possession. She completed the Crittenton Services residential program before moving to an apartment in the YSS McCrary Center. Her children, ages 5 and 1, attend preschool and daycare while she is in class at West Virginia Northern Community College or working at the YSS Sophie Moses Free Store.
She said: "I love being at the McCrary Center because of the comfort and reassurance of knowing my kids and I have our own place that we can call home. I have a lot of support from the staff there and I have learned a lot. Not only do the staff help me, but they are very good with my kids, and I have built relationships with all of the staff. I want to be a good example for my kids so they don't have same struggles I had while growing up or go down a bad path. I want to break the cycle. … My kids and my education are my main focus, and with the help and support of Youth Services and the staff at McCrary I feel that I can accomplish these goals and anything else I put my mind to."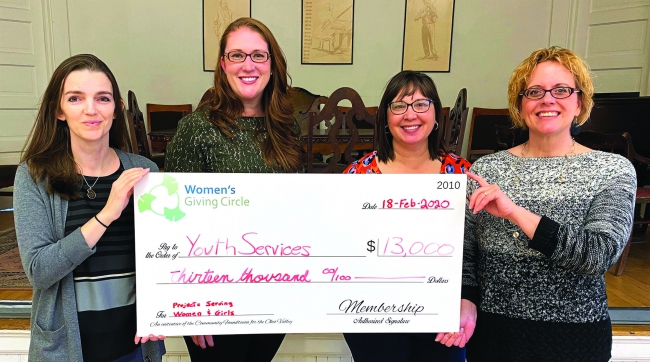 Pictured at the Women's Giving Circle 2020 Grant Award Reception at the YWCA Wheeling on Tuesday are, from left, YSS employee Sarah Carpenter, Women's Giving Circle president Suzanne Rohrig Gaiser, Community Foundation for the Ohio Valley executive director Susie Nelson and YSS communications manager/grant writer Betsy Bethel-McFarland.