Subscribe to Stay Informed
Back to News
Youth Services System Gears up for 2nd Annual CampOut for a Cause
Posted 06/02/21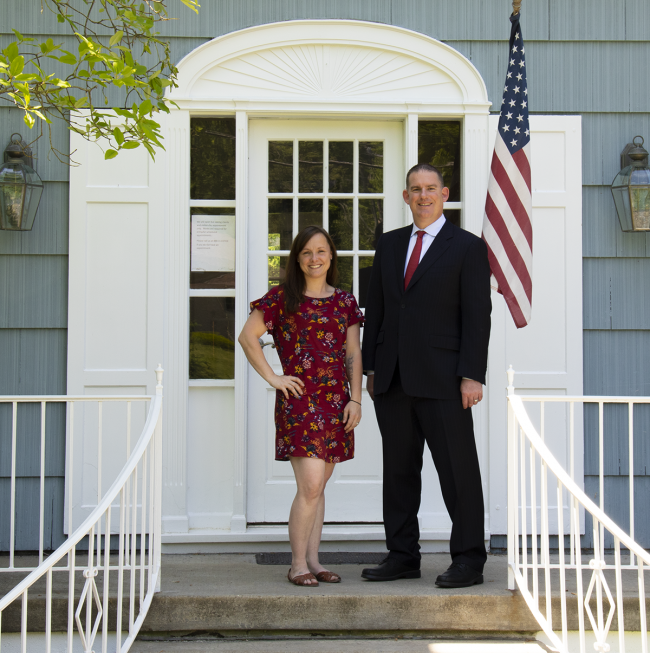 Photo: Jamie Bordas of Bordas & Bordas Attorneys PLLC discusses the firm's support of the Youth Services System CampOut for a Cause with YSS Director of Development Terra Crews. The June 4 fundraiser will benefit adults and children at risk of or experiencing homelessness.
WHEELING — Youth Services System Inc. will hold its 2nd annual CampOut for a Cause on June 4 to benefit local children and adults experiencing homelessness.
The peer-to-peer fundraiser format encourages participants to raise money from friends and family on their own and then camp out wherever they choose on June 4. That evening, videos from local musicians, as well as YSS family and friends, will provide fireside entertainment via the YSS Facebook page.
Last year's event, which was a response to the COVID-19 pandemic, raised more than $25,000. YSS hopes to match that amount this year through sponsorships and fundraising.
The money will benefit children and adults who are still struggling with housing and other basic necessities because of the pandemic or other life circumstances. YSS provides rental assistance and utility assistance to families, transitional housing for older youth, recovery housing for adults in substance use recovery, and the Winter Freeze Shelter, among other homeless prevention services.
Bordas & Bordas Attorneys PLLC is this year's top CampOut sponsor.
"Support from our sponsors is a true blessing. Their support lifts the spirit of our community and helps us all work together to help those in need. We are truly grateful for their willingness to join us in our mission to create better futures for children, families and our community," Terra Crews, YSS Development Director, said.
Additional sponsors include the Encova Foundation, The Cornerstone Group, Northwood Health System, Williams Energy, Kiwanis Club of Wheeling, Kiwanis International, Anthem, C.A. House Music and Highmark Blue Cross Blue Shield.
Anyone interested in participating or donating may find out more by texting YSSCAMPOUT to 44-321 or visit http://tinyurl.com/campoutforacause to access the online fundraising portal.