Subscribe to Stay Informed
Back to News
Youth Services System Names Restaurateur Charlie Schlegel 2019 Good Samaritan
Posted 04/24/19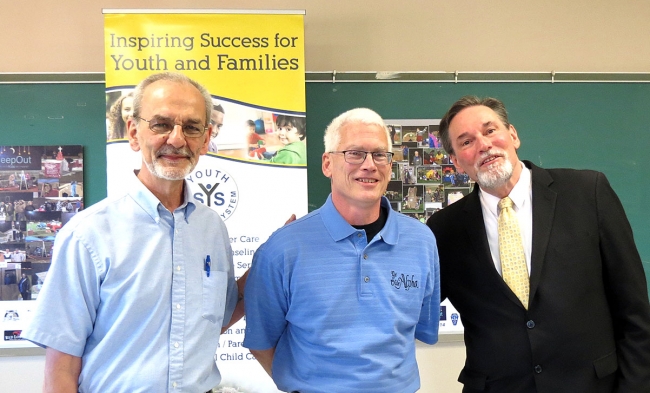 For Immediate Release
April 24, 2019
Contact: Betsy Bethel-McFarland, bmcfarland@ysswv.com, 304-218-2870
WHEELING, W.Va. — April 24, 2019 — The question restaurant owner Charlie Schlegel asks himself when anyone calls seeking a charitable donation isn't "Why should I?" but "Why wouldn't I?"
Giving is second nature to Schlegel, who was raised one of nine siblings in New England. His late father was a dentist and philanthropist who "was on every board known to man" and taught him from a young age that giving to others is not a decision you make but a foregone conclusion.
"I know no other way to live life," the younger Schlegel said.
Today, Youth Services System, Inc., recognized Schlegel's generous spirit by naming him the 2019 Good Samaritan.
"Khalil Gibran, the Lebanese poet, said 'work is love made visible.' There's no more beautiful way to explain what Charlie provides our community in so many ways. We are grateful as are so many others for his generosity," John Moses, Youth Services CEO, said.
The award is named for the biblical Samaritan who, in one of Jesus' parables, cared for a man whom robbers had left for dead on the side ofb the road. Others ignored the man, but the Samaritan gave him clothes and paid for his food and shelter.
Among the past honorees are YSS founder Ronald C. Mulholland, philanthropist Kathleen Hogan Schenk, longtime board members Ron Klug and Susan Hogan, local attorneys Jim and Linda Bordas, and Ziegenfelder Co. owners Lisa and Barry Allen.
Schlegel, 56, is the owner-chef of Ye Olde Alpha Restaurant. He and his wife, Paula, a Wheeling native, moved here 19 years ago to raise their three children closer to her family. Schlegel managed Tony & Cleo's in Elm Grove before opening The Pastime Tavern in Bridgeport with a business partner. In 2005, they bought the Alpha. Under Schlegel's management and featuring many of his specialty recipes, the business has boomed.
Schlegel serves St. Michael Parish as a sixth-grade Sunday school teacher, and he has coached several local high school and college soccer teams, as well as the FC Wheeling United travel team. But the majority of his community service is accomplished through the restaurant. He prepares and gives away thousands of dollars in food a year for charity fundraisers. For example, he provides an extensive dinner for the annual YSS Wheeling SleepOut, which raises money to help homeless youth. He and his staff also conduct the Ugly Server Contest each December to benefit children served by YSS. Through the generosity of Alpha patrons, they have raised nearly $40,000 in six years.
Schlegel donates to the Wheeling Health Right Chef's Auction, Temple Shalom's Chocolate Extravaganza, St. Clairsville Rotary's Taste of the Valley, the Wheeling Symphony Youth Orchestra's Bluegrass BBQ, the Wheeling Farmers' Market, the St. Michael Parish Youth Group, and many more. He's even catering a local steak fry for a youth soccer team in Cameroon, Africa, this weekend.
"When somebody wants me to help them, how we help is we do food. It's what we do," Schlegel said. His staff knows to say yes to any request, "then we just need to figure out how to make it happen."
He added the charities are doing the really hard work.
"Those are the people that are working directly with the kids so they're going to have a bigger impact than I can, and I need to support them. …
"What we do, it pales in comparison."
Schlegel will be honored during the YSS board of directors' annual Good Samaritan Dinner that is set for Friday, Aug. 16, at Wheeling Park's White Palace.
About Youth Services System, Inc.
Youth Services System, Inc. is committed to responding to the complex needs of youth at serious risk. For 45 years, Youth Services System, Inc. has reached thousands of youth and their families with our shelter, residential, community-based and professional services. Together with youth and their families, we work to improve their physical and emotional well-being, to address the debilitating effects of abuse, addiction, and trauma, and to build the skills and connections they need to be successful. Supported by our volunteer Board of Directors, dedicated staff, and faithful community support, Youth Services System, Inc. makes an impact in the lives of youth. For more information, visit www.youthservicessystem.org.
###