Subscribe to Stay Informed
Back to News
Youth Services System Recognizes Safe Place Partners
Posted 03/26/21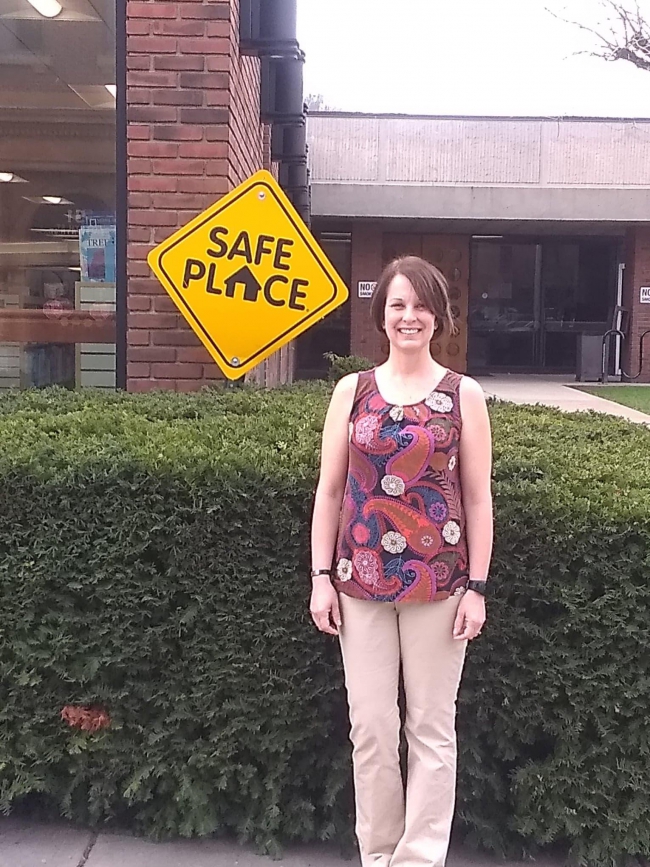 For Immediate Release
March 25, 2021
Contact:
Betsy Bethel-McFarland, Youth Services System Director of Communications and Grants
bmcfarland@ysswv.com
Office 304-218-2894
Mobile 304-280-6212
Photo Caption: Lee Ann Cleary, Ohio County Public Library children's specialist, stands beside the Safe Place sign outside the library at 52 16th St., Wheeling. The library was the first site to partner with Youth Services System as a Safe Place.
WHEELING — The yellow and black diamond-shaped Safe Place sign catches the eye. There's one at the front entrance of the Ohio County Public Library. There's one on the side of every local public bus and outside every Wheeling firehouse. There's even one posted at K.E.Y. Animal Hospital.
So what is a Safe Place?
All 21 Safe Places in the Northern Panhandle have partnered with Youth Services System to provide help to teens in crisis. If a youth is in trouble — fleeing from abuse, for instance — he or she can enter a Safe Place site to seek help. Employees at the sites will then call Youth Services System, where a trained staff member will provide assistance.
"Our Safe Place sites basically extend the reach of Youth Services System to serve local youth in crisis," said Betsy Bethel-McFarland, YSS communications director. "This week — March 21-27 — is National Safe Place Week, and we want to take this opportunity to thank all our partners for caring about teenagers."
Safe Place consists of a national network of more than 22,000 partnering businesses and community locations, such as fast-food restaurants, convenience stores, fire stations, public buses and libraries, which display the Safe Place sign outside or in their windows.
The Ohio County Public Library was the first designated Safe Place site in the Northern Panhandle. Library Director Dottie Thomas said: "We are proud of our partnership with Safe Place and Youth Services System. Even with our restricted hours and access because of COVID, if a child in need comes to our door, we will help."
In addition to Safe Place sites, youth also may use TXT 4 HELP, a 24/7 text-for-support service. Teens can text the word "SAFE" and their current location (address, city, state) to 4HELP (44357) to receive a message with the closest Safe Place location and the YSS 24/7 hotline number, which is 800-977-8918. Users also have the option to text interactively with a counselor for more help.
Since its inception in 1983, Safe Place has helped more than 359,000 youth and currently serves more than 1,500 communities across the country. The program is managed by 140 youth agencies in 38 states and the District of Columbia. The website is http://nationalsafeplace.org.
Youth Services System has helped create better futures for children, families and the community since 1974. In addition to two emergency shelters for teens and a Transitional Living Program for older youth facing homelessness, YSS operates the Winter Freeze Shelter, three recovery homes and the Sophie Moses Free Store.
For information about how to become a Safe Place site, call Jill Eddy at YSS, 304-218-2806, email jeddy@ysswv.com