Subscribe to Stay Informed
Back to News
Youth Services System to Host CampOut for a Cause
Posted 05/11/21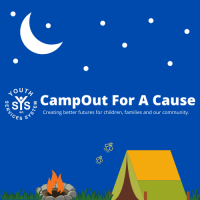 For Immediate Release
May 11, 2021
Contact: Betsy Bethel-McFarland, 304-280-6212
Second annual event will benefit local families facing homelessness
WHEELING – Youth Services System is holding its second annual CampOut for a Cause June 4 to benefit local youth and families experiencing homelessness.
YSS is seeking participants for the event, which is a virtual peer-to-peer fundraiser. Those interested are invited to create an online donation page and then share the fundraiser with friends and family. On June 4, they will camp out in their favorite spot and enjoy local entertainment starting at 6 p.m. on the YSS Facebook page.
The 2020 event helped alleviate the burdens of the COVID-19 pandemic for local residents served by Youth Services System.
"Homelessness is far more than what you see. Homelessness is a pandemic itself. We try to tackle it every day with many of our programs," said Terra Crews, YSS development director. "It's crucial to continue our fundraising efforts to help us with our mission."
Donations may be made by texting YSSCAMPOUT to 44-321 or going to http://tinyurl.com/campoutforacause. To create a fundraising page, click "I want to fundraiser for this" and set up an account. Participants will receive a T-shirt, and anyone who raises $50 or more will receive a thermal mug.
"We're so excited to host the second annual CampOut for a Cause. It's a fun and easy way for folks to help the most vulnerable in our community," Crews said.
Bordas and Bordas Attorneys PLLC are the premier sponsors. Additional sponsorships are available. For information, email tcrews@ysswv.com or call 304-218 2834.
###