Subscribe to Stay Informed
Back to News
YSS GivingTuesdayNow 2020: Help Us Help Families
Posted 05/05/20

Youth Services System, Inc. is participating in #GivingTuesdayNow with a one-day online fundraising campaign Tuesday, May 5.
"Every act of kindness is not only a beacon of hope, it's a critical act of civic and social solidarity." ~ Asha Curran, CEO, Giving Tuesday
#GivingTuesdayNow is a new global day of action in the midst of the COVID-19 pandemic. We can come together — even while we're safely apart —to make a difference for people in need.
By donating to the #YSSGivingTuesdayNow campaign, you can be a beacon of hope to children and their families in the Ohio Valley.
The #YSSGivingTuesdayNow campaign goal is $5,000 to help provide shelter, food and other necessities to families on the verge of homelessness.
The YSS mission is "to create better futures children, families and our communities." Even though the future seems uncertain for many right now, we can provide these basic human needs to help them through this crisis.
Our founder Ronald C. Mulholland said we have a "moral imperative" to help our children succeed in life — for them but also for us and for our communities.
"The test of a civilization is the way that it cares for its helpless members." ~ Pearl Buck
Thank you for giving!
HOW TO GIVE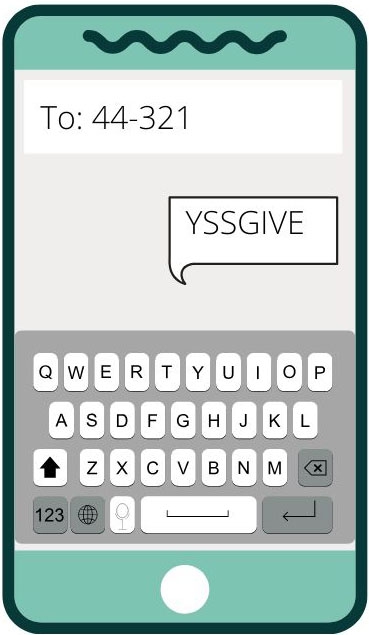 New! Text to Give — Text YSSGIVE to the number 44-321 to receive a link to the #YSSGivingTuesdayNow donation portal. Choose your donation level and your preferred method of payment: bank account, credit card, Apple Pay or PayPal. The direct link to access is here.

Facebook — Give through our #YSSGivingTuesdayNow Facebook fundraiser portal.
OTHER WAYS TO GIVE
Donate through our website using PayPal by clicking here. All donations made on Tuesday, May 5, will be counted toward the YSS GivingTuesdayNow campaign.
Send a check to Youth Services System and write YSS GivingTuesdayNow on the memo line. Mail to YSS, P.O. Box 6041, Wheeling, WV 26003.
SHARE this campaign with your family and friends!