Subscribe to Stay Informed
Back to News
YSS Plants Tree to Honor Lasting Impact of 2021 Good Samaritan Tom Burgoyne
Posted 07/14/21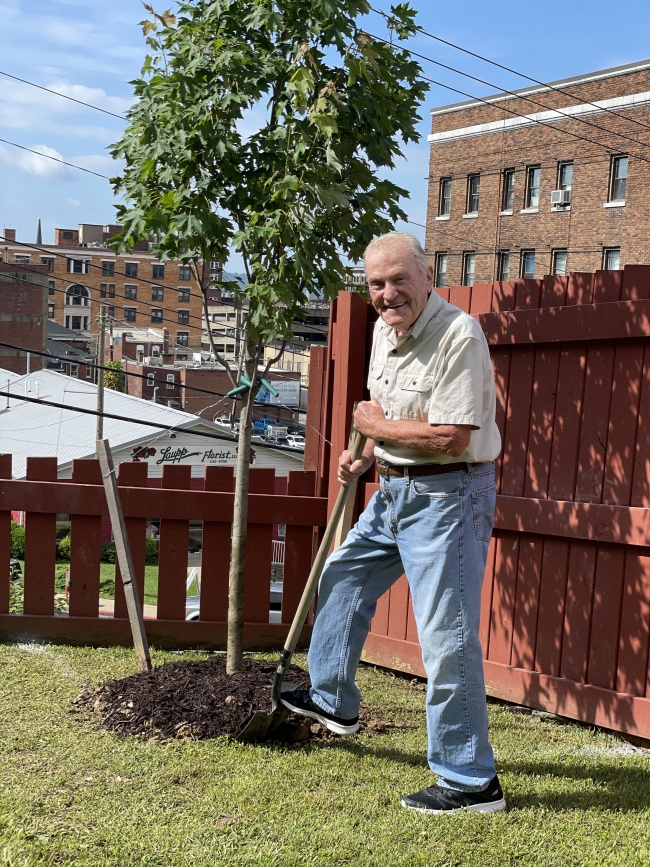 For Immediate Release
July 14, 2021
Contact: Betsy Bethel-McFarland, bmcfarland@ysswv.com
For more photos from the tree dedication ceremony, click here.
WHEELING, W.Va. — Youth Services System on Tuesday planted a red maple tree on the grounds of its Samaritan House emergency shelter in honor of former Ohio County sheriff and 2021 Good Samaritan Tom Burgoyne.
Burgoyne served on the YSS board of directors for 21 years and has supported local youth as a coach, volunteer and mentor since moving here as an FBI agent in 1967.
The red maple stands at the front corner of the Samaritan House property, perched on a knoll at the north end of Eoff Street overlooking downtown. An anonymous donor provided the tree in honor of Burgoyne. A bronze plaque will be installed at a later date.
Ron Klug, a founding YSS board member who also served during Burgoyne's board tenure (1988-2009), spoke during the tree dedication this morning.
"The red maple tree symbolizes adaptability, longevity and generosity. Tom certainly has adapted to this community and put his roots down, like this tree is going to do," Klug said, adding Tom also has been generous with his time serving youth and, at 79 and still serving, has proven his longevity.
CEO John Moses said during the small ceremony Tuesday that he admires Burgoyne's faith, his dedication to serving kids, and the fact he always puts his family first.
Burgoyne spoke about Wheeling being a special place because of agencies such as YSS that provide needed services to their neighbors.
"How fortunate we all are to be in Wheeling, West Virginia, where people care about each other," Burgoyne said.
The ceremony was a precursor to the upcoming Good Samaritan Tribute Dinner, an annual event honoring a community member who has gone above and beyond to serve local youth. This year's dinner will be a hybrid event, taking place Sept. 16 at the Wheeling Park Memorial Ice Rink and livestreamed on West Liberty University's Topper Station, Facebook page and YouTube channel, as well as on the Youth Services System Facebook page and WLU-TV 14 on Comcast. The Fitzsimmons Law Firm is the lead sponsor.
Burgoyne is known throughout the community, by people from all walks of life, as a fair and honest lawman. He retired from the FBI after 31 years and served two four-year terms as Ohio County Sheriff. A father of three with late wife Kathy, he has a heart for youth, which shows in how he spent his time off-duty. As a YSS board member, Burgoyne was active in supporting the Celebrate Youth Festival. He has coached Little League in Dimmeydale and girls' basketball at St. Michael Parish School.
Burgoyne also faithfully supports the Wheeling Central Catholic High School sports programs, often seen encouraging players on the sidelines of the football field. He brought the Drug Free Clubs of America to schools in the Ohio Valley and serves on the boards of Central, the Greater Wheeling Coalition for the Homeless and is a YSS emeritus board member.
The Good Samaritan Dinner is sponsored by Fitzsimmons Law Firm and St. Michael Parish School.
To donate to YSS in honor of Burgoyne, people may text GS2021 to 44-321 or click here.
View local media coverage on our YSS in the News page.
###