Subscribe to Stay Informed
Back to News
YSS to Distribute School Supplies at Celebrate Youth Drive-thru Event
Posted 07/21/21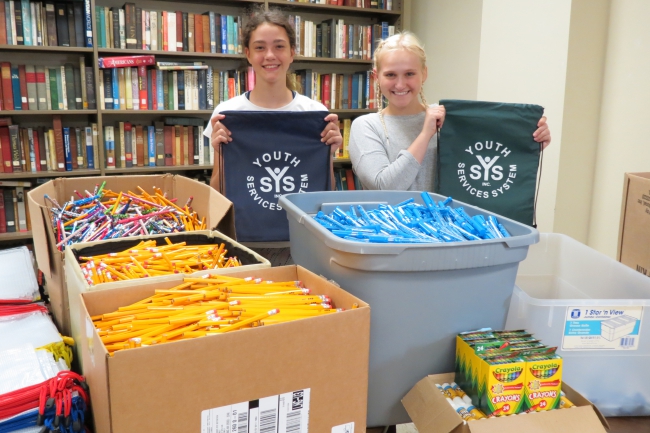 Youth Services System volunteer Addi Carroll, 12, left, and Rylee Reis, a West Virginia's Promise-The Alliance for Youth VISTA at YSS, prepare to pack bags filled with school supplies for the Celebrate Youth drive-thru event from 9 a.m. to 1 p.m. Thursday, Aug. 5 at Wheeling Park.
For Immediate Release
July 21, 2021
Contact: Betsy Bethel-McFarland, 304-218-2894
WHEELING – In its second socially distanced Celebrate Youth event because of COVID-19, Youth Services System (YSS) will hand out school supplies from 9 a.m. to 1 p.m. Thursday, Aug. 5 at the Wheeling Park White Palace parking lot.
Families will have the opportunity to drive through and collect school supplies while enjoying mobile entertainment, including balloon twisting, magic tricks and activity books.
The event will allow families to get free supplies and relieve stress for the upcoming school year. The supplies include a drawstring backpack, crayons, colored pencils, pencil pouches, colored pens, notebooks, glue sticks, erasers, index cards and folders.
Families also will receive a printed QR code that will lead to the YSS website where they can access information about local resources that serve children and families.
"We are looking forward to getting back to our in-person Celebrate Youth Festival next year. Until then, we wanted to make sure we could help alleviate some stress for families and take care of a few items off of the school supply lists for students. We are incredibly thankful for the ongoing support we receive from our community and partners so that we can continue to help local families," said Terra Crews, Development Director.
YSS started the annual Celebrate Youth Festival in 2008 as a way to give back to the community and provide a free day at the park for local families. Before COVID-19, the event included a free park wrist band, school supplies, children's activities, inflatables, food, a resource fair and musical entertainment.
Celebrate Youth is sponsored by Wheeling Park, Northwood Health Systems, Encova Foundation, Marshall County Commission, The Health Plan, AEP and several area churches.
To sponsor or for event information, contact Crews, 304-218-2834, tcrews@ysswv.com. Agencies and businesses interested in providing resource information may contact Betsy Bethel-McFarland, 304-213-2894, bmcfarland@ysswv.com.
###