Subscribe to Stay Informed
Back to News
YSS Youth Mentoring Network Celebrates Mentors, Seeks Volunteers
Posted 01/26/21
FOR IMMEDIATE RELEASE
Monday, Jan. 25, 2021
Contact: Betsy Bethel-McFarland, 304-280-6212
For video interviews, please contact Chanler Long, 304-218-2857, clong@ysswv.com
WHEELING — January is National Mentoring Month, and this year Youth Services System Inc.'s Youth Mentoring Network is celebrating by thanking its mentors with a token of appreciation and raising awareness to recruit more mentors.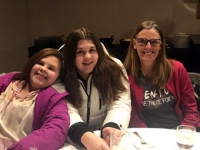 The YSS Youth Mentoring Network pairs caring adults with local children ages 6-17 who could benefit from an expanded support network. Mentors undergo extensive interviews and background checks and are paired with children based on gender and shared interests.
Locally, mentors are needed for children from various backgrounds, including those being raised by someone other than a parent. Male mentors are in high demand. The Youth Mentoring Network currently has six boys and two girls waiting to be matched.
"West Virginia ranks second in the nation for the number of children being raised by a grandparent. In our program, more than half of the children matched with a mentor are being raised by a grandparent or grandparents," said Chanler Long, YSS Youth Mentoring Network coordinator.
Research shows that mentors play a powerful role in providing young people with the tools to become more resilient, make responsible choices, attend and engage in school, and reduce or avoid risky behavior like drug use. In turn, these young people are:
55% more likely to be enrolled in college than their peers who weren't mentored
81% more likely to report participating regularly in sports or extracurricular activities.
78% more likely to volunteer regularly in their communities.
More than twice as likely to say they held a leadership position in a club or sports team.
Yet, the same research shows that one in three young people in our country will grow up without a mentor.
"Mentoring relationships are at their best when connections are made between a caring adult and a young person who knows that someone is there to not only have fun with them but help guide them through tough life decisions," Long said.
Joanna Merriman of Wheeling became a mentor in 2018 after becoming aware how much some parents and especially grandparents struggle to entertain their children/grandchildren due to work commitments, poor health, sheer exhaustion or financial constraints. Her mentee is now 14.
"I had recently stopped working and felt that I would have more time to share with a young person with similar interests as mine — theater, art, music and walking trails — who might otherwise not get the opportunity to discover just how much Wheeling and the Ohio Valley has to offer in those activities. It has been an enjoyable couple of years for me getting to know my mentee, I hope it has been for her, too!"
COVID restrictions relegated much of their contact in 2020 to calls and texts, but they were able to get together a few times outdoors, Merriman said.
Janet Lallathin of Barnesville has been a mentor since 1992, serving most of that time when the organization was part of Big Brothers Big Sisters. Youth Services System assumed responsibility for the mentoring program after that national affiliation ended in 2016.
"I was involved with Big Brothers and Sisters for 26 years. … One of my 'Littles' went on to be a Big Sister herself. Two of my 'Littles' followed in my footsteps and went to The Ohio State University. I still keep in touch with my matches but wanted to be involved again with school-age kids. Since joining Youth Mentoring Network, I have been matched with two fun girls," Lallathin said.
"Something we don't always consider is that the benefits of a mentoring relationship often spread far beyond the two people directly involved in the match. From the child's family, to their peers, to the people that may be lucky enough to be impacted by them in the future, the effect of mentoring has no limits," Long said.
"I would encourage anyone considering becoming a mentor to call and learn more about the program," Merriman said.
The Youth Mentoring Network normally holds an appreciation dinner for its mentors in January, but as large gatherings are still on hold because of COVID, Long is hand-delivering their gifts. Continuing mentors will receive a backpack cooler, and new mentors will get an insulated mug, both printed with the Youth Mentoring Network logo.
The YSS Youth Mentoring Network receives support from the United Way of the Upper Ohio Valley, as well as local charitable foundations and individual donors. Donations can be sent to Youth Mentoring Network, Youth Services System Inc., P.O. Box 6041, Wheeling, WV 26003.
The Youth Mentoring Network serves Hancock, Brooke, Ohio, Marshall, Wetzel and Tyler counties in West Virginia and Belmont County in Ohio.
To learn more about the role mentoring plays in children's lives and to find volunteer opportunities http://youthmentoring.youthservicessystem.org.