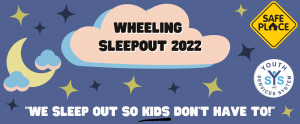 Wheeling SleepOut Returns on Nov. 4th
Posted: October 11, 2022, 9:49AM
Categories: Events
The Wheeling SleepOut is the signature fundraising event for the Youth Services System, Inc. Transitional Living Program, which provides housing, life skills, employment assistance and more for young adults ages 17-21 who have aged out of the system of care. On November 4th, participants build temporary shelters and sleep out at the Miracle League Field in Wheeling, WV while enjoying food, games and entertainment.
To get started with the SleepOut, you'll first need to register (each participant/attendee/member of a fundraising team must register separately). Once you've registered, you are free to create or join a fundraising team (click the link below and select "I Want To Fundraise For This")! You'll be able to customize your fundraising page and get your own unique shareable link to get others to join you:
Register Start Your Fundraiser
*You can also text WSO2022 to 44-321 to get started with your fundraiser!
*If you are not planning on attending the event, but want to fundraise you do not have to register.
---
Once you're registered and have started or joined a fundraising team, you're ready to share your link far and wide with friends, family, and social media followers! The individual who raises the most funds will be rewarded with an incredible prize (which we will announce soon!) on the evening of November 4th at Miracle League Field in Wheeling during the SleepOut.
We've compiled all of the information you need to get started with SleepOut, and all of the rules and regulations for the popular Boxed-In Design Contest (in which participants build temporary shelters out of cardboard, etc. and brave the elements for the night) in our Participant Packet right here:
Interested in sponsoring this year's SleepOut? Check out our Sponsorship Packet here:
Interested in volunteering? Fill out a volunteer form below and email it to Jane Dombroski at jdombroski@ysswv.com - *volunteers do not need to pay a registration fee - please include your t-shirt size with email*.
---
This year's theme is "Once Upon a Time..." unfortunately not every kid has a fairy tale life. The YSS Transitional Living Program helps youth who have fallen through the cracks by providing shelter, employment, life skills and more. By raising funds and sleeping out on November 4th, you will be helping youth in our community take the next step towards living "happily ever after".
We encourage participants to dress up and incorporate their favorite fairy tale characters into their Boxed-In Design Contest creations!

---
Thank you to this year's sponsors!