Subscribe to Stay Informed
2022 Good Samaritan Tribute Dinner
September 22, 2022
6:00pm - 10:00pm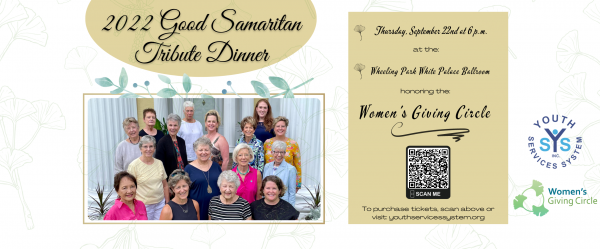 Each year, Youth Services System, Inc. (YSS) recognizes an individual or group for their dedication to bettering the lives of children and families in our community. The annual Good Samaritan is honored at a tribute dinner held at the Wheeling Park White Palace. This year's Good Samaritan honoree is the Women's Giving Circle of the Community Foundation of the Ohio Valley!
For the past 11 years, The Women's Giving Circle (WGC) has strived to improve the lives of women and girls across the Ohio Valley through pooled resources and research-driven grants.
The WGC is building a community of women philanthropists and creating a permanent legacy to address the needs of women and girls in the Upper Ohio Valley of West Virginia and Ohio. The goal is to assist women and girls achieve lifetime goals that might not otherwise be attainable without the support provided by the giving circle.
Please join YSS and our Board of Directors in honoring the Women's Giving Circle at the 2022 Good Samaritan Tribute Dinner to be held on Thursday, September 22nd at 6 p.m. at the Wheeling Park White Palace. Attire is business casual. Tickets include dinner and two drink tickets.
Music provided by members of the Wheeling Symphony Orchestra and Youth Orchestra.
Invocation by Rev. Erica Harley.
Dinner and drinks provided by Wheeling Park.
Interested in being a sponsor for this event? Contact Director of Development Staci Stephen at sstephen@ysswv.com
OR fill out this sponsorship packet and return via email to sstephen@ysswv.com and/or triggleman@ysswv.com
Back to Calendar