Subscribe to Stay Informed
Giving Tuesday 2022
November 29, 2022
All Day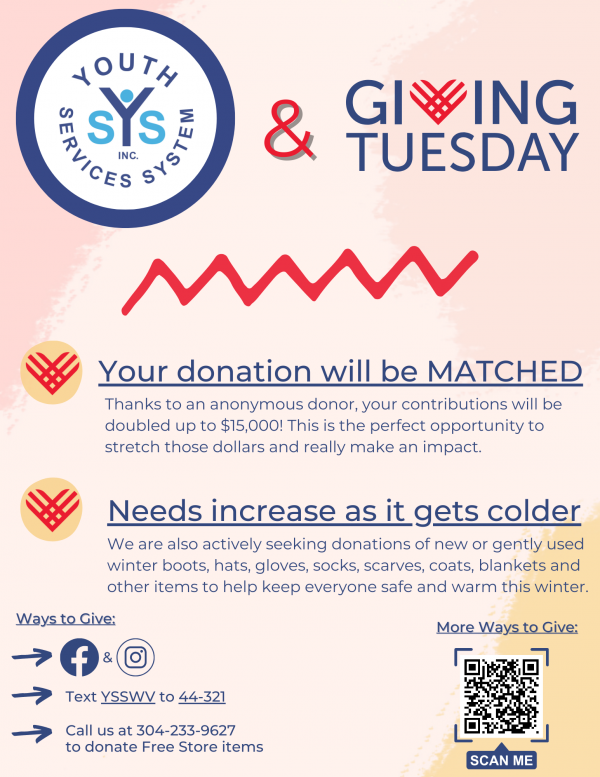 As most of us prepare for the upcoming Thanksgiving holiday, we look forward to spending time with our loved ones and giving thanks for all of the blessings in our lives. Unfortunately, not everyone has had the good fortune to experience the same blessings.

As the season for giving thanks quickly approaches, we can't help but think about the children and families who will be left out in the cold without shelter, food, and warmth. With winter quickly approaching, this becomes a matter of life and death. This is the perfect time for you to be a blessing. Tuesday, November 29th is Giving Tuesday. Thanks to an anonymous donor, every donation you make from now until November 29th will be MATCHED dollar for dollar up to $15,000! All donations will go to providing assistance to those in need.

You can also make an in-kind donation of boots, shoes, coats, blankets, hats, gloves, scarves, or any warm clothing. To make an in-kind donation, please call 304-233-9627.
To give to our Facebook Fundraiser, please click below:
Donate

To learn more about ways to give to YSS, NIP tax credits and more, please visit the link below:
Thank you for helping us continue to fulfill our Mission to create better futures for children, families and our community!
Back to Calendar