Subscribe to Stay Informed
Back to News
AEP Mitchell Plant Donates Sleigh Full of Christmas Toys to Children
Posted 12/20/19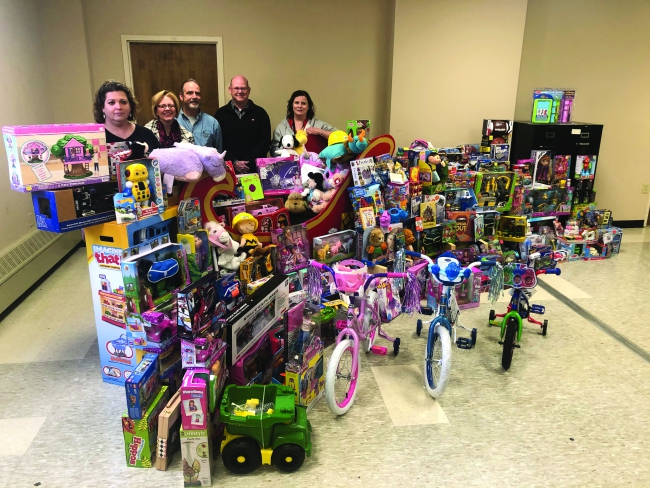 From left, AEP administrator Erin Hill, YSS communications manager Betsy Bethel-McFarland, AEP process manager Jack Hill, AEP Mitchell Plant Manager Doug Rosenberger and AEP administrative assistant Kelly Clemons.
For Immediate Release
Dec. 20, 2019
Contact: Betsy Bethel-McFarland, bmcfarland@ysswv.com, 304-218-2894
WHEELING, W.Va. — Santa's elves at the AEP Mitchell Plant once again have delivered a sleigh overflowing with toys to Youth Services System, just in time for Christmas.
For nearly 10 years, Mitchell Plant employees have taken up a collection of money and toys to provide Christmas gifts to local children whose families have fallen on hard times.
This year's treasures included bicycles and blocks, firetrucks and tractors, plush toys and action figures, Cabbage Patch Kids and Frozen dolls, puzzles and coloring books.
"It's a variety of toys for a variety of kids," said Doug Rosenberger, plant manager.
"I get excited thinking about all the kids we're going to be able to help," said Erin Hill, plant administrator, who has been organizing the annual toy drive since 2012.
Joelle Moray, AEP external affairs manager, experienced firsthand the joy of helping a family when a mother of a 5-year-old and 2-month-old stopped by to pick out toys while AEP employees were still there.
"I'm thinking about that woman I just helped shop for those two kids, and we just changed her life," Moray said. "We just gave her Christmas. Without this, she wouldn't have that, and it's amazing."
YSS distributes the toys to people who anyone who demonstrates a need. There is no signup required. Hill said she especially likes knowing that she may be helping a family who missed the registration deadline for other toy distribution programs or may have experienced a recent financial crisis.
"Some people don't know they're going to be in need in October" when registrations are being taken, Hill said.
A YSS employee received a call within an hour of the toy delivery from a mother who just experienced a death in the family and could not afford gifts for her daughter. The AEP donations will make it possible for the girl to have some gifts under the tree.
"That's what it's for. The kids need to have something fun at Christmastime," said Jack Hill, plant process supervisor.
Not only does the toy project obviously help local families, it brings together the plant employees — even contractors and service providers, said Kelly Clemons, administrative assistant. One contractor who had just been laid off for the winter stopped into the plant and handed over a $100 bill for toys.
"Watching everybody care, everyone pulls together, it's really awesome," Clemons said.
"The Mitchell Plant employees are a genuine Christmas blessing," said Tammy Kruse, YSS development director. "We are humbled by their generosity and thrilled to have a small hand in helping make Christmas wishes come true for kids and families in need."
---
About Youth Services System, Inc.
Youth Services System, Inc. is committed to responding to the complex needs of youth at serious risk. For 45 years, Youth Services System, Inc. has reached thousands of youth and their families with our shelter, residential, community-based and professional services. Together with youth and their families, we work to improve their physical and emotional well-being, to address the debilitating effects of abuse, addiction and trauma, and to build the skills and connections they need to be successful. Accredited by CARF International and supported by our volunteer Board of Directors, dedicated staff and faithful community, Youth Services System, Inc. makes a measurable impact in the lives of youth. For more information, visit www.youthservicessystem.org.
###