Subscribe to Stay Informed
Back to News
Campout for a Cause: New YSS Fundraising Event Focuses on Stay-at-home Fun for Families
Posted 05/21/20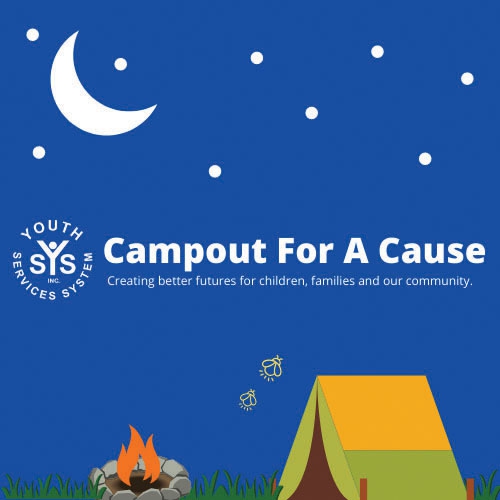 For Immediate Release
May 15, 2020
Contact: Betsy Bethel-McFarland, bmcfarland@ysswv.com
Photos available upon request
WHEELING, W.Va. — Heading into summer with nothing on the calendar because of COVID-19 cancellations?
Looking for a way to get the whole family involved in helping others during the pandemic?
Youth Services System Inc. is offering a solution to both problems: Campout for a Cause.
The new fundraising event combines a stay-at-home activity with an opportunity to raise funds virtually for YSS programs that support people in need.
"It's something we can all do together while safely apart," said Terra Crews, YSS special events coordinator. "Families can raise money through our virtual fundraising platform and then camp out in their back yard, on their trampoline, or even in their living room on June 5."
Crews said she will be sharing camping tips, games and recipes during the week leading up to the event, and there will be entertainment provided that night for participants to enjoy around their campfire or inside their tents or blanket forts.
"Local celebrities will be share videos of them telling stories and singing songs that we will share throughout the night on our Facebook event page," Crews said. "It's going to be a lot of fun."
Campout for a Cause will benefit unfunded and underfunded programs of YSS, including the Transitional Living Program, Temporary Emergency Housing for Families, Lazarus House and Mary & Martha House sober-living homes for men and women in recovery, and the Youth Mentoring Network.
"These programs not only provide tangible support such as housing and food, but they also offer emotional support that people need to get through tough times and find their path toward a safer, more successful future," said Betsy Bethel-McFarland, YSS communications manager.
Crews, who with her husband has four children ages 8 and under, said she has been struggling to find a way to help others during the stay-at-home order.
"My heart aches for those who can't provide for themselves or their families and those who have no support. I know that YSS is their refuge, and I hope that through this fundraiser we can make a difference in the lives of the most vulnerable in our communities," Crews said.
Because the event is virtual, anyone can participate no matter where they live. Crews said she is inviting family and friends who live around the U.S. to join in the fun.
To register, visit our Events page. Participants can then set up a fundraising page on Give Lively and start spreading the word. Prizes will be offered for hitting various fundraising milestones. Prizes will be available for pickup on a date to be determined, or shipped if necessary.
Campout for a Cause would not be possible without the premier sponsorship of Bordas & Bordas. Additional sponsors include Northwood Health Systems, WesBanco and Emily Shortall-Harvey Goodman Realty.
Sponsorships are still available. To make a general Campout donation, text YSSCAMPOUT to 44-321 or visit https://secure.givelively.org/donate/youth-services-system-inc/campout-for-a-cause.
###