Subscribe to Stay Informed
Back to News
Clean Life, Clear Path: Recovery Coach Training Set for April 19-23 at YSS
Posted 04/21/21
For Immediate Release: April 13, 2021
Contact: Betsy Bethel-McFarland, 304-231-2894, bmcfarland@ysswv.com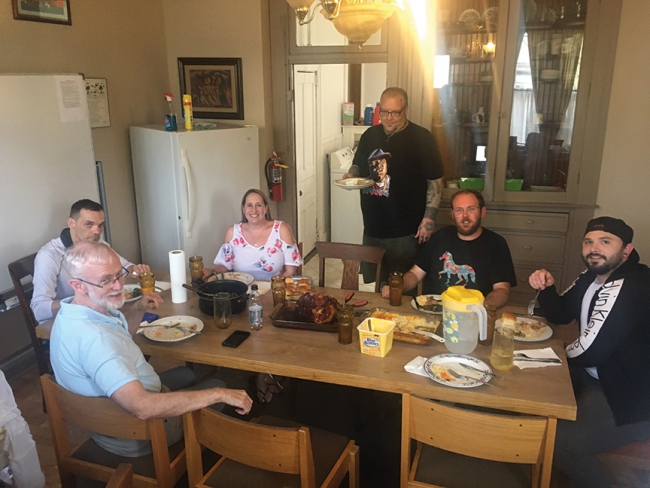 Gathered for dinner Friday at Mark's House, a Youth Services System recovery home, are from left: resident Douglas Abner, YSS Recovery Homes director Pat Condron, peer recovery coach Tonya Rodriguez, resident Scott Conley, YSS Recovery Homes assistant director Nic Cochran and peer recovery coach Travis McBride. YSS will host a Recovery Coach Academy April 19-23 for people seeking skills to guide, mentor and support individuals in recovery from alcohol or substance use disorder.
WHEELING — Tonya Rodriguez has been clean from alcohol and drugs for five years. She said life in was lacking, though, until she took the Recovery Coach Academy training at Youth Services System in November. After that weeklong course, her path became clear, and she landed a job as a peer recovery coach
"That class opened up the whole world to me," said Rodriguez, who lost her job as a convenience store clerk last year during COVID-19 pandemic shutdowns. "I have my own apartment now. I pay my own bills. I just got a car today!" she said on Friday.
A new Recovery Coach Academy session is set for April 19-23 at Youth Services System, 87 15th Street. It follows the evidence-based Connecticut Community for Addiction Recovery (CCAR) Recovery Coach Academy model and is led by Valery Staskey of Youth Services System and Jennifer Sorg of YWCA Wheeling. This will be their ninth time leading the course.
"We've traine 130 coaches in recent years," Staskey said. Sixteen more are signed up for this course.
The course covers topics such as communication skills, recovery stages, core values, ethics and more
"YSS is committed to training coaches to help those in or seeking recovery to receive that extra help from another person who has been successful in recovery," Staskey said. People tend to pay more attention to the advice of someone who has walked in their shoes.
Like Rodriguez, many academy graduates have found employment at agencies in the Ohio Valley as coaches or technicians, Staskey said.
Rodriguez and several others have joined the Workforce West Virginia's Project Rebound peer recovery coach jobs program, a one-year, grant-funded program. She started March 1 at Mary & Martha House, a YSS recovery home for women.
"I think that's really the next stage, is to give back, to help others. … It's just so great to see these ladies grow through their recovery," Rodriguez said.
The need for peer recovery coaches is great.
"You don't necessarily have nearly enough people working to deal with the amount of people trying to recover. … I think right now that's the biggest struggle is you can't even get the people off the street, you know; they're dropping faster than we can get to them," said Laura Albertini-Weigel, director of the YWCA Wheeling's Women Inspired in New Directions (WIND) recovery program.
The Wheeling Police Department reported 270 overdose calls and 22 overdose deaths in 2020.
Recovery Coach Academy graduate Travis McBride said he could have been an overdose statistic. He was prescribed Xanax for anxiety at age 12, and his doctor continued to up the dosage through his teens. He got off that drug but turned to others, When he tried crack cocaine for the first time, "it was game over," he said.
He lost his job and "basically squatted'' in his own house with no electricity or water for two years. He was arrested on felony drug charges and faced decades in prison, but W.Va. Circuit Court Judge David Sims sent him to Drug Court.
McBride said without a doubt, it saved his life.
McBride has been clean for two years and is a Project Rebound peer recovery coach for YSS Recovery Homes. A trained and gifted graphic designer, he said he has found his calling as a mentor to the men living at Mark's House on Wheeling Island. He was proud to report the four current residents have jobs and one recently obtained a driver's license and bought a car.
"I love my job. I love what I do with these guys. This is what I'm supposed to be doing with my life," McBride said. He plans to take his training a step further and become a state-certified peer recovery support specialist
Sorg, the academy's co-leader, is a peer recovery support specialist with the YWCA WIND program who has been clean for 11 years. She said the best part of the Recovery Coach Academy is knowing that several members of each training class will "carry on and do more and help others, and maybe that's one more person we can save."There is a fee for the 40-hour training. Lunch is provided, and continuing education credits are pending. Participants must wear masks; social distancing will be practiced.
For information, call Valery Staskey, 304-218-2843 or email vstaskey@ysswv.com.
About Youth Services Inc.
Youth Services System Inc.'s mission is "to create better futures for children, families and our community." YSS is committed to responding to the complex needs of youth at serious risk. For 47 years, YSS has reached thousands of youth and their families with our shelter, residential, community-based and professional services. Together with youth and their families, we work to improve their physical and emotional well-being, to address the debilitating effects of abuse, addiction, and trauma, and to build the skills and connections they need to be successful. Accredited by CARF International, YSS is supported by our volunteer Board of Directors, dedicated staff and faithful community, allowing us to make a measurable impact in the lives of youth. For more information, visit www.youthservicessystem.org.