Subscribe to Stay Informed
Back to News
Generations Restaurant Donates Breakfast Proceeds to YSS Winter Freeze Shelter
Posted 01/23/20
For Immediate Release
Jan. 22, 2020
Contact: Betsy Bethel-McFarland, bmcfarland@ysswv.com, 304-218-2894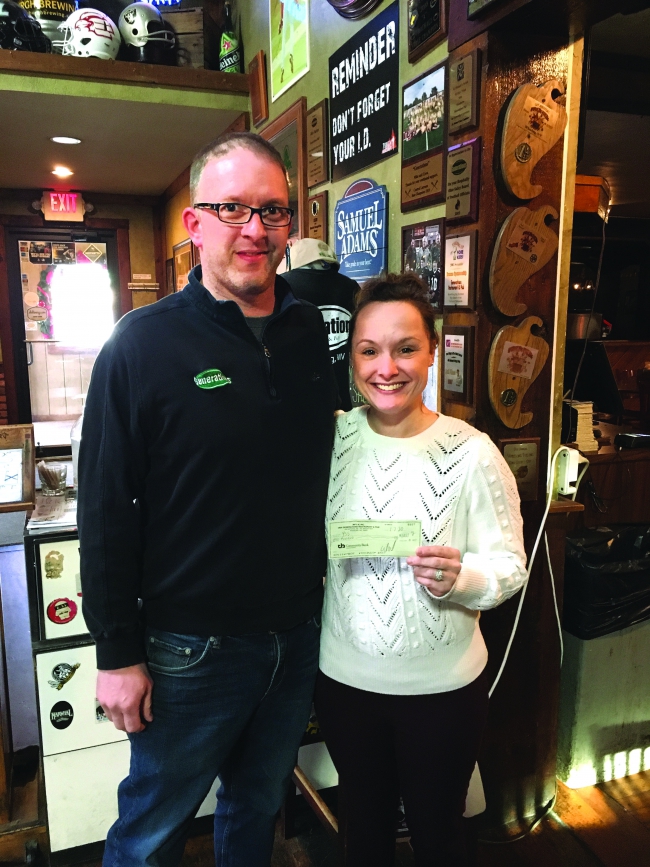 Generations manager Matt Benson presents a check to Terra Crews, Youth Services System Inc. special events coordinator, to benefit the Winter Freeze Shelter. The check represented the $1,130 in ticket sales from the Enchanted Winter Breakfast that took place at the restaurant on Dec. 14.
WHEELING, W.Va. — Generations Restaurant owner Michael Duplaga III recently donated $1,130 — which is 100% of the proceeds of the Enchanted Winter Breakfast — to Youth Services System Inc.'s Winter Freeze Shelter.
Duplaga collected online ticket sales and donated it all back to YSS, not charging the nonprofit agency anything for the pancake breakfast his restaurant hosted on Saturday, Dec. 14, in its upstairs banquet hall.
"Mike is the perfect example of the compassion we have seen poured out for our Winter Freeze Shelter guests," said Terra Crews, YSS special events coordinator. "For him to cover the cost of the breakfast means there will be more money to feed and shelter those in our community who are homeless."
YSS CEO opened the Winter Freeze Shelter 11 years ago as the need became apparent to provide shelter in extreme weather conditions. The shelter normally is open from Dec. 15 to March 15 each year, but this year opened one month early specifically to fill an urgent need to serve women and children. The shelter provides a hot meal, fellowship, a place to sleep, connection to services, rehousing support and other services as requested.
Crews, who came to YSS in September from the Children's Museum of the Ohio Valley, organized the Enchanted Winter Breakfast as a one-time fundraiser for the shelter. The event featured a pancake breakfast, costumed characters, a photo booth and activities based on a popular animated cold-weather movie. Characters from the Capes & Tiaras party company came dressed as a snow queen, snow princess and silly snowman. Tickets were sold online by Generations.
In addition to donating the ticket sales, Duplaga added a $50 donation and said he is interested in providing leftover food from the restaurant to the Winter Freeze Shelter.
About Youth Services System, Inc.
Youth Services System, Inc. is committed to responding to the complex needs of youth at serious risk. For 45 years, Youth Services System, Inc. has reached thousands of youth and their families with our shelter, residential, community-based and professional services. Together with youth and their families, we work to improve their physical and emotional well-being, to address the debilitating effects of abuse, addiction and trauma, and to build the skills and connections they need to be successful. Accredited by CARF International and supported by our volunteer Board of Directors, dedicated staff and faithful community, Youth Services System, Inc. makes a measurable impact in the lives of youth. For more information, visit www.youthservicessystem.org.
###