Subscribe to Stay Informed
Back to News
Pancake Breakfast Features Popular Cold-Weather Characters
Posted 11/20/19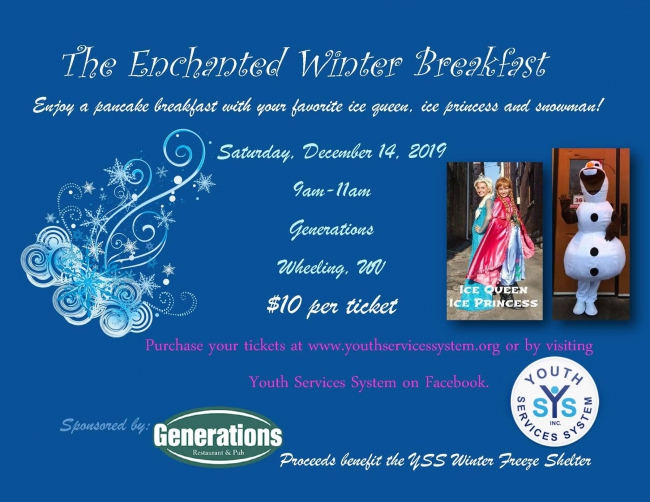 For Immediate Release
Nov. 20, 2019
Contact: Terra Crews, tcrews@ysswv.com, 304-218-2834
Enchanted Winter Breakfast will benefit YSS Winter Freeze Shelter
WHEELING, W.Va. — Tickets are on sale now for the first Enchanted Winter Breakfast to benefit the Winter Freeze Shelter operated by Youth Services System.
The event takes place from 9-11 a.m. Saturday, Dec. 14 at Generations Pub, 338 National Road. Guests young and old are invited to dress in costume and will have the chance to interact with their favorite ice queen, ice princess and silly snowman while enjoying a pancake-and-sausage breakfast.
Additional activities include a photo booth, balloon wands and swords, a snowflake craft, a talking reindeer prize drawing, and face painting.
Tickets are $10, available on Eventbrite.com and through the event listing on the YSS Facebook page. Ticket proceeds will benefit the YSS Winter Freeze Shelter, which provides a warm place to sleep, a hot meal, clothing, medical care and a connection to resources for people without homes.
Partnering with YSS on this first-time event are Generations Pub, Capes & Tiaras, Jingles the Clown and Oh Snap! photo booth.
About Youth Services System, Inc.
Youth Services System, Inc. is committed to responding to the complex needs of youth at serious risk. For 45 years, Youth Services System, Inc. has reached thousands of youth and their families with our shelter, residential, community-based and professional services. Together with youth and their families, we work to improve their physical and emotional well-being, to address the debilitating effects of abuse, addiction, and trauma, and to build the skills and connections they need to be successful. Accredited by CARF International, YSS is supported by our volunteer Board of Directors, dedicated staff and faithful community, allowing us to make a measurable impact in the lives of youth. For more information, visit www.youthservicessystem.org.