Subscribe to Stay Informed
Back to News
YSS Opens Winter Freeze Shelter One Month Early for Women
Posted 11/01/19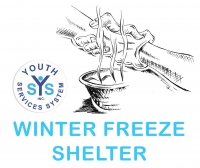 For Immediate Release
Oct. 31, 2019
Contact: Betsy Bethel-McFarland, bmcfarland@ysswv.com, 304-218-2894
WHEELING, W.Va. — Youth Services System Inc. will open its Winter Freeze Shelter at 87 15th St. one month early — on Nov. 15 — for women only. It will begin serving both men and women on the regular opening date, Dec. 15.
YSS CEO John Moses said he recently learned about 40 women are sleeping outside in Wheeling, three of whom are pregnant. Other local homeless shelters accept women, but the beds are fewer after the Salvation Army on 16th Street closed its doors to women in September.
The early opening was made possible by a $10,000 anonymous donation, Moses said.


He said it costs about $10,000 a month to operate the Winter Freeze Shelter, which is housed in the YSS administrative office building. That figure includes salaries, supplies, food and other expenses, such as prescription co-pays, bus transportation to a family member's home, or deposits for rent and utilities.
"It's a costly operation. The main reason it's costly is because we need to engage trained staff that are particularly skilled with a population that experiences a whole lot of stress," Moses said.
On Sept. 4, Moses called a meeting at YSS of government, social service and healthcare professionals to discuss options for sheltering women following the Salvation Army's announcement. Possible solutions included finding an apartment building to lease, asking church congregations to provide temporary shelter and opening the Winter Freeze Shelter early.
Since that time, Moses secured a lease on an apartment building adjacent to YSS, and two families with young children moved in.
Moses is grateful to the anonymous donor and also to his staff, who will be busy getting the building ready and collecting donations for the early start. He noted the J.B. Chambers Foundation and the Sisters of St. Joseph also are making significant contributions.
"We live in a very generous community in the Ohio Valley. We have operated the Winter Freeze Shelter, this will be our 11th season, and nearly 100% of the funding for it has come from the community. They make it possible," Moses said.
Donations are still needed for this year's shelter season, which will run through March 15. Items needed include: cash, hygiene products, extra-long twin sheets and blankets, pillows, warm clothing, outerwear, boots, socks, coffee and coffee supplies, snacks, and meals prepared in a kitchen licensed by the county health department.
Drop-off hours are 9 a.m. to 4 p.m. Monday through Friday. For information, call YSS, 304-233-9627.
YSS also currently is preparing for its largest annual fundraiser, the Wheeling SleepOut, which benefits the Transitional Living Program for youth who are facing homelessness. The outdoor team event is set for Nov. 8 at the J.B. Chambers I-470 ballfields and has a fundraising goal of $75,000. For information, visit www.wheelingsleepout.org.
About Youth Services System, Inc.
Youth Services System, Inc. is committed to responding to the complex needs of youth at serious risk. For 45 years, Youth Services System, Inc. has reached thousands of youth and their families with our shelter, residential, community-based and professional services. Together with youth and their families, we work to improve their physical and emotional well-being, to address the debilitating effects of abuse, addiction, and trauma, and to build the skills and connections they need to be successful. Supported by our volunteer Board of Directors, dedicated staff, and faithful community support, Youth Services System, Inc. makes an impact in the lives of youth. For more information, visit www.youthservicessystem.org.
###