Subscribe to Stay Informed
Back to News
YSS Recognizes Children's Mental Health Awareness Day in West Virginia
Posted 05/04/20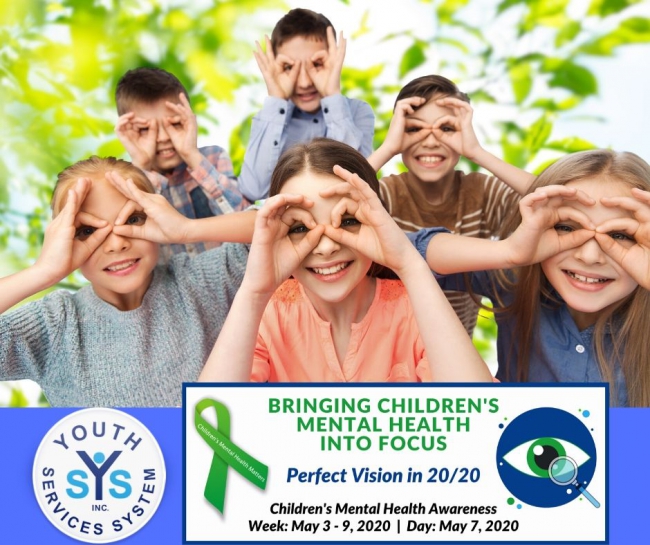 May 4, 2020 — Youth Services System, Inc., joins educators, government agencies and mental health and social service providers around the state today in celebration of West Virginia Children's Mental Health Awareness Day.
Calling children's mental health care "fundamental to the future of West Virginia," Gov. Jim Justice signed a proclamation and highlighted the need for comprehensive, coordinated mental health care for children, youth and families throughout the state.
The whole month of May is National Children's Mental Health Awareness Month. In addition, National Children's Mental Health Awareness Day is May 7, while May 3-9 is National Children's Mental Health Awareness Week. This year's theme is Bringing Children's Mental Health Into Focus: Perfect Vision for 2020.
The U.S. Substance Abuse and Mental Health Services Administration, Centers for Disease Control and Prevention, American Psychological Assocation, National Alliance on Mental Illness and National Federation of Families for Children's Mental Health are among the organizations promoting activities this month.
With the mission of "creating better futures for children, families and our community," Youth Services System is highly responsive to the mental health needs of children.
Through our Regional Youth Services Center, we offer centralized information/referral 24 hours a day every day to connect youth to all levels of service — from outpatient assessment/diagnostic, therapy and emergency shelter care.
The state's Quiet Minds program was piloted at YSS and is now successfully implemented throughout the state. Quiet Minds is a rapid response to first episode psychosis in youth in order to limit disruption to the young person's growth and psychosocial development.
YSS also employs five School-Based Mental Health coordinators who work in five middle and high schools throughout the Northern Panhandle, providing prevention, intervention and treatment services.
YSS Engagement Specialists throughout the Northern Panhandle assist by increasing access to mental health and substance abuse services, link with necessary resources by helping children and families navigate our social service and treatment system.
Supportive services like Transitional Living, the youth Workforce Program and Youth Mentoring Program also are available to provide wraparound social support that contributes to positive mental health outcomes.
On this day and every day, Youth Services System Inc. recognizes and responds to the mental health needs of our children, youth and families.
For information about YSS, visit www.youthservicessystem.org. For parent resources, visit http://www.youthservicessystem.org/resources.
Also, visit the Centers for Disease Control and Prevention Children's Mental Health portal: https://www.cdc.gov/childrensmentalhealth/index.html
May 4 — WV Children's Mental Health Awareness Day
May 7 — National Children's Mental Health Awareness Day
May 3-9 — National Children's Mental Health Awareness Week
May — National Children's Mental Health Awareness Month