Subscribe to Stay Informed
Back to News
YSS School Mental Health Coordinators Creatively Meet Needs During COVID-19 Crisis
Posted 04/13/20
For Immediate Release
April 10, 2020
Contact: Betsy Bethel-McFarland, bmcfarland@ysswv.com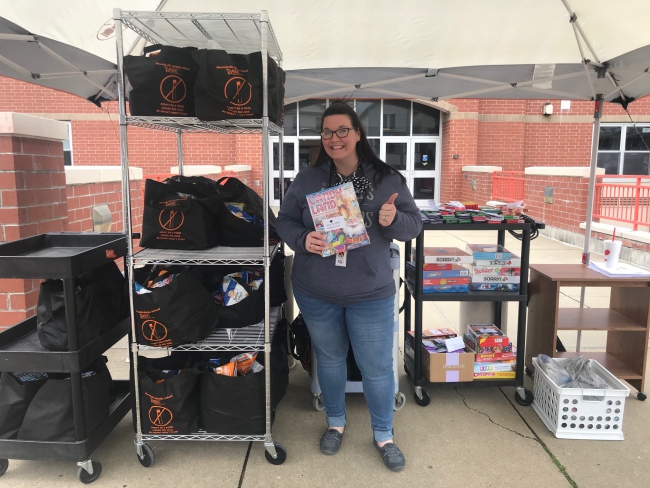 Trista Rager with Youth Services System Inc. prepares to hand out mental health packets to families of Moundsville Middle School parents. She is the Expanded School-based Mental Health coordinator at the school.
WHEELING, W.Va. — When it's your job to support and boost the mental health of students at a particular middle school, the fact their lives have been capsized by a pandemic that shuttered the school indefinitely makes your job more important than ever.
Trista Rager, Kathy Seidler and Alysha Ernest are rising to the challenge as Expanded School-based Mental Health coordinators at Moundsville Middle School, Triadelphia Middle School in Wheeling and Oak Glen Middle School in New Cumberland, respectively.
The trio and their colleagues in Community-based Services at Youth Services System, are supporting their schools during the COVID-19 pandemic in a variety of innovative ways.
"With the changes in structure, routine and communication comes anxiety and a variety of other symptoms and behavior," said Jill Eddy, YSS director of Community-based Services. "It's crucial that we continue to reach the children we serve and find alternative ways to engage and support not only them but their teachers and parents."
Right after the school buildings closed and homeschooling began, Rager, Seidler and Ernest set up Facebook pages as an information portal for students and parents. There, they post everything from age-appropriate meditation and yoga exercises to healthy vs. unhealthy coping skills to ideas for fun at-home games and activities to relieve stress, such as nature scavenger hunts. They also list local resources and educational articles for parents on mental health-related topics.
"It has been challenging but also fun to find ways to reach out to kids during this time," Ernest said.
They have shown up — in masks and gloves — to help with food distribution and handed out mental health packets for parents to take home.
---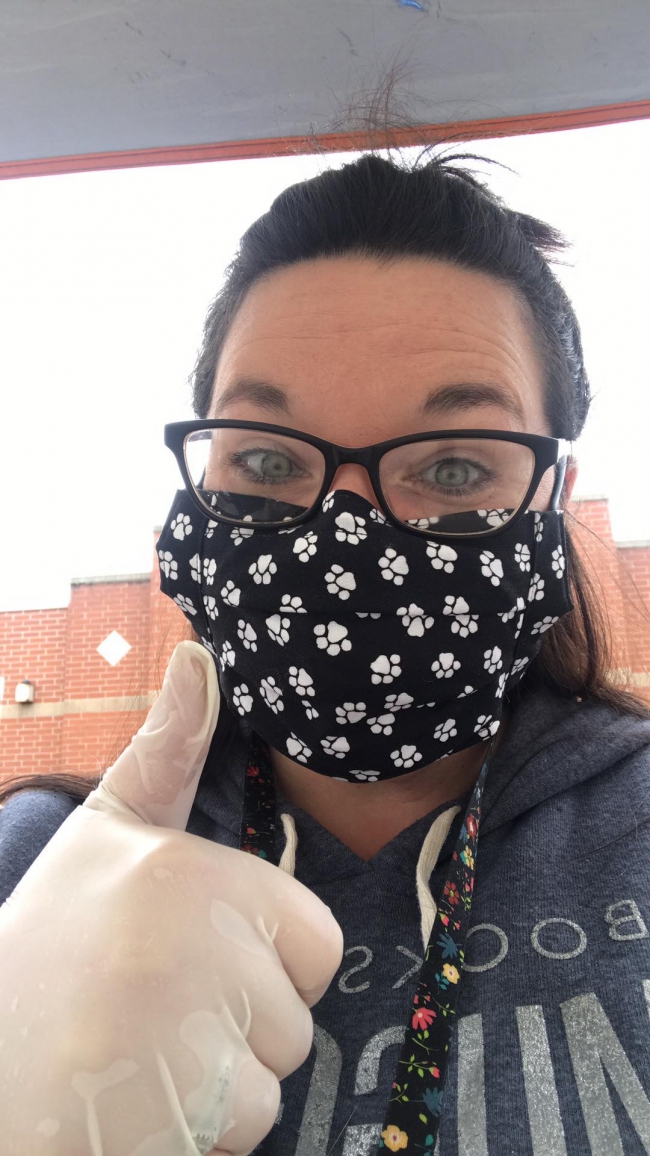 Trista Rager gives a thumbs up prior to assisting with food distribution at Moundsville Middle School. Rager is the Expanded School-based Mental Health coordinator for the school.
---
They have made phone calls to stressed-out parents and teachers and held online video sessions with students identified as Tier II, which means they may benefit from early intervention for mental health issues.
They've even helped families with physical needs.
"I'm answering emails from parents and students with questions and concerns about where to find hygiene and clothes. I'm checking in with families of 50 at-risk students, and even checking in with older siblings who are babysitting while their parents work, making sure they are OK and providing them resources for fun things to do at home," Rager said.
"We are doing what it takes to assure that any child or family in need of services are connected to them and to maintain their health and well-being during this unprecedented time," Eddy said.
Their scope of work during this crisis is not just for students and their families, however.
"I also have been providing support for overwhelmed teachers through email and phone calls," Seidler said.
In addition to Rager, Seidler and Ernest, Casey Higgins and Melissa Roberts are YSS Expanded School-based Mental Health coordinators at Brooke Middle School in Brooke County and Long Drain School in Wetzel County, respectively.
For helpful resources, visit www.facebook.com and search for Mrs. Seidler's Office, Ms. Rager's Office and Ms. Ernest's Office.
About Youth Services System, Inc.
Youth Services System, Inc.'s mission is "to create better futures for children, families and our community." YSS is committed to responding to the complex needs of youth at serious risk. For 45 years, Youth Services System, Inc. has reached thousands of youth and their families with our shelter, residential, community-based and professional services. Together with youth and their families, we work to improve their physical and emotional well-being, to address the debilitating effects of abuse, addiction, and trauma, and to build the skills and connections they need to be successful. Accredited by CARF International, YSS is supported by our volunteer Board of Directors, dedicated staff and faithful community, allowing us to make a measurable impact in the lives of youth. For more information, visit www.youthservicessystem.org.
###