Subscribe to Stay Informed
Back to News
YSS Wheeling SleepOut Builds Awareness and Brighter Futures for Youth Facing Homelessness
Posted 10/07/21
UPDATE: For a wrap-up slide show video of the event, please click here.
For Immediate Release
Contact: Betsy Bethel-McFarland, 304-218-2894
11th Annual Event Will be In Person and Online Nov. 5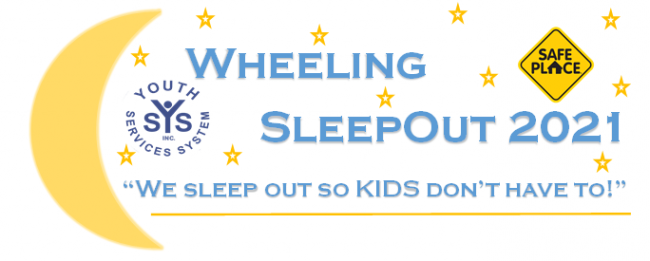 WHEELING — The 2021 Wheeling SleepOut to prevent youth homelessness and help build brighter futures for youth will take place Nov. 5 at the J.B. Chambers I-470 Complex.
Youth Services System (YSS) started the event in 2011 to raise awareness about youth homelessness and raise money to support youth ages 17-21 who receive housing and services through the YSS Transitional Living Program.
"Last year because of COVID, the entire event was held online, but this year we are excited to announce we are having it in person with certain precautions in place," YSS Development Director Terra Crews said. It will be a hybrid event; people still may participate remotely.
To register, participants go to www.youthservicessystem.org/events, where they will find an online registration form, a link to the Give Lively fundraising website where they create a profile and share with friends, and Boxed-In Design Contest guidelines.
On Nov. 5, teams will build cardboard structures at the Miracle League Field to be judged by local celebrities in the Boxed-In Design Contest. Remote participants may enter the contest by sending videos. Prizes will be awarded for top fundraisers and best box designs.
The boxes are judged on comfort, theme and use of statistics and information to raise awareness.
"The SleepOut is a wonderful opportunity for families, friends, schools, churches, teams and clubs to come together and participate in a team-building exercise while also learning about important issues facing today's youth, such as homelessness and disconnection," Crews said.
According to the Annie E. Casey Foundation WV KidsCount 2020 report, 1 out of 9 teens in West Virginia was disconnected in 2019, which means they weren't working and weren't in school. Disconnected teens also are more likely to experience homelessness, placing them at higher risk for mental illness, substance abuse, physical problems, early pregnancy and early death.
The percentage of disconnected youth in West Virginia has decreased from 20% to 15% in the past 10 years but is still more than the national rate of 11%.
Last year, YSS served 121 youth in the program, a 20% increase over the previous year.
"The YSS Transitional Living Program exists to connect youth to housing, jobs, life skills, therapy, treatment, school, community resources and caring adults, all of which lead to better outcomes for our young people and our communities as a whole," said Betsy Bethel-McFarland, YSS Communications and Grants Director.
"When these students are able to get into the (Transitional Living Program), they are able to get consistency in where they are living, which in turn helps them to be able to focus on getting through school, graduating, and being productive citizens. It is a blessing to have the Transitional Living Program to help our students in getting their basic needs met," said Erin Bowers, Ohio County Schools residential education liaison for the McKinney-Vento Act, which serves youth experiencing homelessness.
The premier sponsor is Wilhelm Farms. Additional sponsors include Northwood Health Systems, Wayne and Carolyn Smith, Sherrie Dunlevy, Ziegenfelder Co., WesBanco and the Kiwanis Club of Wheeling.
To donate, text WSO2021 to 44-321 or go to https://tinyurl.com/wheelingsleepout2021. To sign up to participate, go to https://www.youthservicessystem.org/events.