Subscribe to Stay Informed
Back to News
Home for the Holidays-Wheeling SleepOut 2020 Window Display Contest Underway
Posted 11/23/20
For Immediate Release
Contact: Betsy Bethel-McFarland, 304-218-2894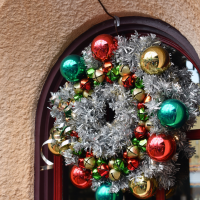 WHEELING — November 23, 2020 — Local merchants are showing their holiday spirit and supporting a good cause during the inaugural Home for the Holidays Window Display Contest, sponsored by Youth Services System Inc. (YSS)
Starting today, members of the public are invited to check out window displays of 10 participating businesses and then vote online for their favorite. The businesses agreed to participate to help bring awareness to the Home for the Holidays-Wheeling SleepOut 2020 fundraiser, which benefits the YSS Transitional Living Program that serves youth facing homelessness.
"We want to thank these merchants for spreading the word about the SleepOut, and we want to spotlight their efforts to spread holiday cheer during this difficult time for so many," YSS Special Events Coordinator Terra Crews said.
Merchants participating in the Window Display Contest are (alphabetically):
Ash & Tin Boutique, 2242 Market St., Wheeling
Attic Pickers, 201 Main St., Bridgeport
Bridge Tavern, 950 Main St., Wheeling
Felton CPA, 1144 Market St., Wheeling
Hughes Design and Gift Gallery, 600 National Road, Wheeling
Payton's Pretties, 355 Wharton Circle Suite 121, Triadelphia
Rachel's on 16th, 86 16th St., Wheeling
Re'Decorate Consignment, 2207 Market St., Wheeling
ReStyle Consignment, 2215 Market St., Wheeling
Uniglobe Ohio Valley Travel, 1165 Market St., Wheeling
For a Google map with these places marked, go to https://goo.gl/maps/jyDiXPvkd8Aiwdj16.
Each business also has information about the SleepOut and youth homelessness on display, along with a QR code visitors can scan with their mobile phones to place their votes.
"We hope people will take a drive to see the pretty windows and then vote for their favorites," Crews said. "It could be a fun family activity during the upcoming holiday weekend."
The 10th annual Wheeling SleepOut will take place virtually Dec. 4. Teams and individuals are invited to hold their own fundraisers and then build a cardboard structure in which to sleep out at home. Videos of local entertainers and a screening of the documentary "American Street Kid" will be shown on YSS social media platforms that night. Winners of the fundraising contest, Boxed-in Design Contest (for the sleepout structures) and the Window Display Contest also will be announced that night.
To cast a vote, learn more about YSS Transitional Living Program, or to donate to the Wheeling SleepOut, please visit www.youthservicessystem.org/events.
About Youth Services System, Inc.
Youth Services System, Inc. is committed to responding to the complex needs of youth at serious risk. For 46 years, Youth Services System, Inc. has reached thousands of youth and their families with our shelter, residential, community-based and professional services. Together with youth and their families, we work to improve their physical and emotional well-being, to address the debilitating effects of abuse, addiction, and trauma, and to build the skills and connections they need to be successful. Supported by our volunteer Board of Directors, dedicated staff, and faithful community support, Youth Services System, Inc. makes an impact in the lives of youth. For more information, visit www.youthservicessystem.org.
###